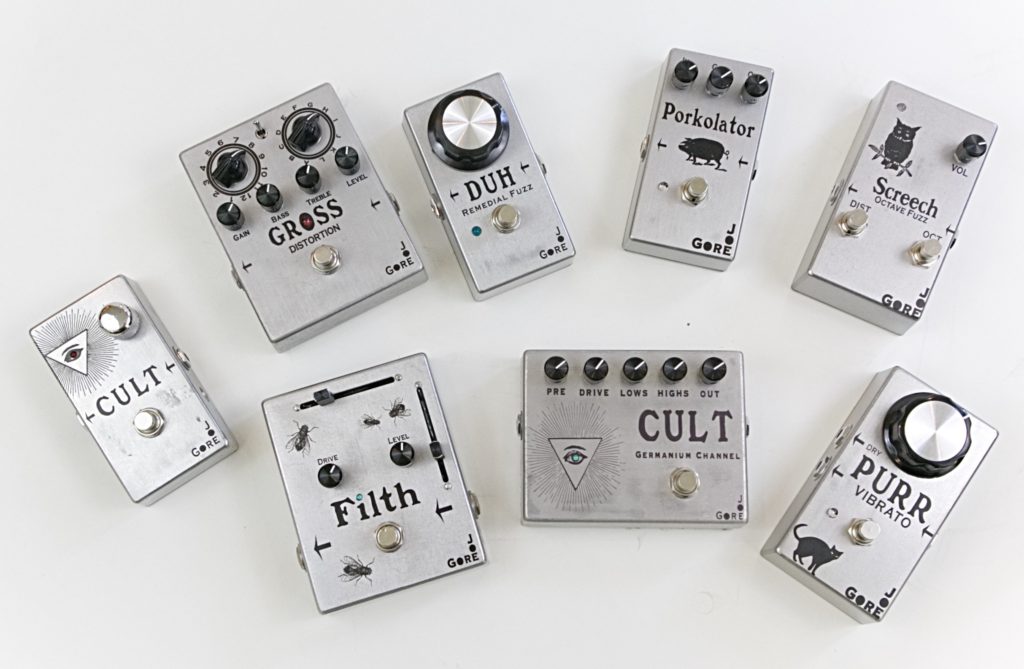 All models are now available from Vintage King.
"All of Joe's pedals are hugely inspirational." —Richard Fortus (Guns N' Roses, Crystal Method, Pink, BT, Dead Daisies) 
MODELS (specs, demos, and testimonials at the links below) :
Duh Remedial Fuzz. In stock now at Vintage King!
Filth Fuzz. In stock now at Vintage King!
Gross Distortion. In stock now at Vintage King!
Cult Germanium Overdrive. In stock now at Vintage King!
Cult Germanium Channel. In stock now at Vintage King.
Screech Octave Fuzz. In stock now at Vintage King! More info.
Porkolator Distortion. In stock now at Vintage King! More info.
Purr Vibrato. In stock now at Vintage King.
GORE PEDALS USERS:
Richard Fortus (Guns N' Roses, Crystal Method, Pink, BT, Dead Daisies)
Gary Clark Jr. (solo artist)
Joey Santiago and Frank Black (Pixies)
Blake Mills (solo artist, Alabama Shakes, Sky Ferrera, Fiona Apple, John Legend, Connor Oberst)
Kenny Greenberg (Taylor Swift, Willie Nelson, Brooks & Dunn, Kenny Chesney, Faith Hill, Wynona Judd
Michael Beinhorn, producer (Red Hot Chili Peppers, Soundgarden, Aerosmith, Hole, Ozzy Osbource, Marilyn Manson)
Young Guru (producer/engineer, Jay-Z, Kanye West,Ludacris, Eminem, Mariah Carey)
Vernon Reid (Living Colour, Public Enemy, John Zorn, Mick Jagger, Bill Frisell)
Joe Chiccarelli (producer, Morrissey, U2, My Morning Jacket, The Killers, Elton John, Frank Zappa)
David Torn (solo artist, David Bowie, k.d. lang, John Legend, Madonna, Tori Amos, Jeff Beck)
Adrian Belew (solo artist, David Bowie, Talking Heads, King Crimson, Frank Zappa)
Whitney Petty (Thunderpussy)
Charlie Hunter (solo artist, bandleader, D'Angelo, Norah Jones, Snarky Puppy, John Mayer)
Joe Barresi, producer (Soundgarden, Slipknot, Queens of the Stone Age, Melvins, Bad Religion)
Lyle Workman (Beck, Sting, Frank Black, session guitarist, film composer)
William DuVall (Alice in Chains, Comes with the Fall, Neon Christ)
Mike Keneally (Frank Zappa, Joe Satriani, Dethklok, Steve Vai, Dweezil Zappa, solo artist)
Eric McFadden (George Clinton, Eric Burdon, Anders Osbourne, T.E.N., solo artist)
R.J. Ronquillo (Santana, Stevie Wonder, Smokey Robinson, Chaka Khan Ricky Martin, 2Pac)
Matt Wallace, producer (Maroon 5, Faith No More, Replacements, O.A.R., Blues Traveller)
John Bohlinger (Lee Brice, Sheryl Crow, Miranda Lambert, Joe Walsh, Trace Adkins, Little Big Town)
Gary "Dr. Know" Miller (Bad Brains)
John Parish, guitarist and producer (PJ Harvey, solo artist)
Brent Paschke (Pharrell Williams)
Adam Levy (Norah Jones, Ani DeFranco, Amos Lee, Allan Toussaint, Tracy Chapman, solo artist)
Jane Wieldin (Go-Gos, Elettrodomestico, solo artist)
Brian Ray (Paul McCartney and Etta James)
Pete Loeffler and Dean Bernardini (Chevelle)
Mark Goldenberg (Jackson Browne, Bonnie Raitt, Chris Isaak, Linda Ronstadt, Hugh Laurie, Waylon Jennings, solo artist)
Pete Thorn (Chris Cornell, Melissa Etheridge, solo artist)
Michael Beinhorn, producer (Ozzy Osbourne, Soundgarden, Red Hot Chili Peppers, Aerosmith, Korn, Marilyn Manson, Black Label Society)
Jason Carmer, engineer and producer (Run-D.M.C., Vanessa Carlton, Camper Van Beethoven, Third Eye Blind, Kimya Dawson)
Corky James, session guitarist (Katy Perry, Demi Lovato, Glen Campbell, Meat Loaf, LeAnn Rimes, Liz Phair, Avril Lavigne, Kelly Clarkson, Nick Lachey)
Ronny Drayton (Defunkt, Labelle, Alicia Keys, Nona Hendryx, David Sylvian, Material)
Avi Bortnik (John Scofield band, solo artist)
Dan Vickrey (Counting Crows)
Will Bernard (bandleader, Tom Waits, TJ Kirk, Stanton Moore)
Greg Ingraham (Avengers)
Matte Henderson (John Medeski, Natalie Merchant, Screaming Headless Torsos, Mick Karn, solo artist)
James "Roto" Rotondi (Air, Humble Pie, Mr. Bungle, Hundred Hounds)
WHAT I MAKE AND WHY
I'm Joe Gore, and I'm obsessed with stompboxes whose tones change according to touch, technique, and guitar settings. Yes, some players prefer effects that compress and smooth their sound for more consistent and predictable results. That's cool, but I'd rather expand the guitar's dynamic range.
Circuits from the 1960s and '70s are often my jumping-off points, but I usually jump pretty far. No clones here.
Example: As a single-germanium-transistor overdrive, Cult Germanium Overdrive has roots in the geranium boosters of the 1960s, though the apple has rolled far from the tree. The tone curve suits everything from a sizzling Tele bridge pickup to a woolly neck humbucker. The gain control operates in a novel way, so that every knob position yields usable sounds. And while you expect germanium overdrives to clean up when you roll off guitar volume, Cult takes the phenomenon to extremes: The rolled-back tone is nearly identical to bypass. You can literally leave Cult on all night and go from crystal to sludge by touch and guitar settings alone.
Or take Duh: Its schematic ancestors are the dual-transistor "brand x" fuzzes of the '60s and '70s, but it doesn't sound like them. It's not terribly "gainy"—note attack stays crisp even when it's floored. It's freakishly dynamic for a full-bore fuzz. (My sonic goal for Duh was "Pixies," so imagine my delight when the band starting using it.)
Other products aren't so minimal. Filth Fuzz and Gross Distortion are wide-ranging "tone factories" for studio sound sculpting, but they still provide crackling presence and hair-trigger dynamic response.
My pedals aren't for everybody. Guitarists  who focus  on dynamic variation and touch sensitivity will probably dig them most. They're designed in San Francisco and manufactured in Michigan by skilled craftspeople earning a fair wage. They're available from Vintage King.
Joe Gore is a musician, writer, and music-tech geek. Joe has performed with Tom Waits, PJ Harvey, Tracy Chapman, Marianne Faithfull, Courtney Love, Flea, Les Claypool, and many other artists. He's written literally thousands of musician interviews and gear reviews for the leading musician magazines, and he helps develop music products for various manufacturers (notably Apple, where he's been a major contributor to Logic Pro and GarageBand software). He also runs tonefiend.com, a geeky guitar blog.