IN STOCK NOW AT VINTAGE KING!
"Remarkable … responsive dynamics and simultaneously fierce and expressive tones. This is a pedal that doesn't give up even one less-than-spectacular sound. It reminds me of '60s records where the fuzz sound jumped right out of the grooves and changed my world." —Guitar Player magazine
Duh isn't as stupid as it looks.
You know those fuzzes that sound bitchin' in your bedroom, but vanish in the mix or onstage? Duh Remedial Fuzz isn't one of them.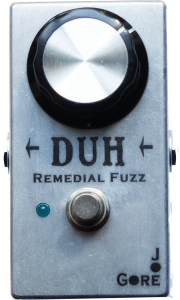 Duh is an aggressive one-knob fuzz that doesn't merely bludgeon your amp with gain, but adds a distinctive, harmonically rich character. There's high-end sizzle and low-end mass, but both are carefully sculpted—think "fat but fit." Unlike most ultra-high-gain fuzzes, it boasts phenomenal dynamic sensitivity, providing high-contrast tones in response to guitar-knob adjustments. Result: far more colors than you'd expect from a one-knob box.
Duh is voiced for great results with anything from a sizzling Strat bridge pickup to a fat-ass neck humbucker. Its tones are less scooped than on most retro fuzzes, though the low-mids are manicured to emphasize airy, sparkling highs. 
Single-note lines and solos sing with rich sustain. Chords sound massive, yet they retain definition, even relatively complex voicings that would dissolve into mush with most fuzzes.
Duh is a distant descendant of the two-transistor "Brand X" fuzz pedals of the '60s, though it doesn't sound like any of them. Its gain is actually lower than on most fuzzes, which paradoxically makes it sound bigger in the mix by preserving playing dynamics and crisp note attack.
Skeptical about whether a one-knob box can suit many different guitars and amps? You may be in for a surprise.
Duh was created in San Francisco and is built in Michigan by skilled craftspeople earning a fair wage.
TO USE: Turn the knob to make it louder. Duh.
—Joe Gore, San Francisco
DUH COMMENTARY:
"Amazing sustain and sweetly aggro tones."
—Guitar Player magazine
"I love it. Charles [aka Frank Black] loves it!"
—Joey Santiago, Pixies
"I totally dig Duh!!! I've got it on the road with me now, and I am totally into it. It is acquitting itself beautifully under wartime conditions. Thanks so much!" —Mike Keneally (Frank Zappa, Joe Satriani, Dethklok, Steve Vai, Dweezil Zappa, solo artist)
"Joe's pedals are just really cool. I love dialing them in and exploring how they add in dynamics and harmonics." —Whitney Petty (Thunderpussy)
"The best, most musical, most dynamic fuzz ever."
—David Baerwald (Sheryl Crow, Joni Mitchell, David & David)
"Joe Gore's Duh pedal serves up scrumptious fuzz in a deceptively simple package. It sounds great at varying amounts of input gain and responds well to changes of touch. 
The harmonic content is exceedingly rich. When you play two or more notes together, very complex and interesting chords ring out. Aside from the sound, the Duh pedal's one knob design is a great low IQ feature for cave man guitar playing needs, and looks killer on your pedal board…sweet pedal made by a musician for musicians. I will definitely put it to good use!"
 —
Will Bernard
(bandleader, Tom Waits, Stanton Moore, TJ Kirk)
"As you might expect with a former Guitar Player editor, current Premier Guitar editor, and guitarist with Tom Waits, PJ Harvey, and Tracy Chapman, Gore has an educated ear when it comes to tone. Duh's gain is on the lower end of the fuzz range, but it still offers plenty of sustain and gorgeous harmonic overtones. Even at full guitar volume Duh is more articulate than its name might suggest. Manipulation of the instrument's volume and tone controls, and/or switching the pickup selector brought out a surprising variety of sounds. It is always a good sign when you don't want to stop playing when exploring a new piece of gear, and I found the Duh hard to shut off—the term 'inspiring' kept coming to mind." 
—Guitar Moderne magazine
"It gets one extra-meaty sound, with a large volume control so you can work it with your foot. It's got a lot of low-end thump and articulation, which matches very well with bridge and single-coil pickups."
—Avi Bortnik (John Scofield Band, solo artist)
"Just finished a fairly in-depth test of the Joe Gore Duh Remedial Fuzz, and wow! This is an amazing fuzz/distortion/overdrive box! It's deceivingly simple, but with infinite variations. Depending on the amp used, you'll get tons of great fuzz, overdrive, and distortion tones. At first I thought it would work best in live settings, since it seems to be EQ'd with more highs and mids than a standard Big Muff-type pedal. But I now realize it's great in the studio too. I found many great tone variations just by using the guitar volume to increase or decrease the input gain level. I am super impressed."
—Corky James, session guitarist (Katy Perry, Demi Lovato, Glen Campbell. Meat Loaf, LeAnn Rimes, Liz Phair, Avril Lavigne, Kelly Clarkson, Nick Lachey)
"A deceivingly simple overdrive/heavy fuzz box with tons of variation. You turn the knob to make it louder (yes,"duh") but the art is in the nuance. Slight adjustments will delight you as you move through the dynamic range. Fat, chunky lows, an airy midsection, and sparkling highs make this retro fuzz really special. Plus, it just looks cool. Check it out."
—Truth in Shredding (truthinshredding.com)