AVAILABLE NOW AT VINTAGE KING!
"Amazing sustain, sweetly aggro tones, and just enough sonic weirdness to turn peoples' heads. Bravo!" —Guitar Player magazine
"We were amazed at the amount of different sounds that the Filth produced by simply adjusting the sliders. From a '60s, 'Psychotic Reaction' fuzz to a Santana-esque smooth overdrive to end-of-the-world Black Sabbath heaviness, Cult displayed incredible flexibility. Most guitarists would have no problem employing Filth the sole fuzz in their signal chain." —Vintage Guitar magazine
Man, I love those mad scientist fuzzes with too many knobs! I've collected them for decades and used them on a zillion sessions. It got to the point were people were hiring me specifically to make those sort of farting, fried-circuit tones.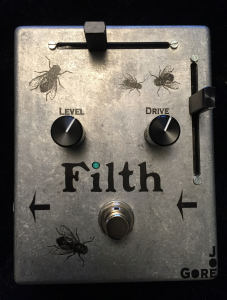 But the downside of those complex fuzzes is that they're a little too wide-ranging, with many settings you'll probably never use. It's easy to spend 20 minutes dicking around with the dials without nailing the perfect tone. I've always wished for a wild, highly variable fuzz that was a bit more "curated," with easier access to the tones you're likeliest to use.
That's what inspired the Filth Fuzz. It's only got four controls, but it's a cornucopia of cool, quirky, and usable fuzz flavors.
The drive and level controls do what you'd expect. But unlike many fuzz drive controls, this one sounds great throughout its range. Extreme settings are molten-lava thick. Lower settings are like…slightly cooled lava, maybe?
But the real action is in the two sliders. They're tone controls of a sort, but not in the usual way. Most fuzz tone controls are tone-sucking passive circuits situated downstream from the fuzz effect. But here, the sliders alter the voltages at the transistors, radically changing not only the tone, but also the timbre, response, attack, sustain, and compression. In other words, the sliders radically alter the fuzz's core character, as opposed to simply EQing a single core tone.
Prog-rock mastermind Matte Henderson shared the Filth clip below. Matte showcases two of the pedal's personalities: farty and fat.
This just in: Eff me, David Torn is soooooo good. He just posted a stupendous looped improv recorded with Filth. I'm speechless with admiration.
TO USE: Set desired gain and output levels. Move the sliders till it sounds awesome.
CAUTIONS: Filth sounds best before any buffered effects. It usually works best at or near the front of your effect chain.
Filth Fuzz was created in San Francisco and is built in Michigan by skilled craftspeople earning a fair wage. Available now from Vintage King!
–Joe Gore, San Francisco
MORE FILTH COMMENTARY:
"Filth rocks! Freaking great and quickly flexible." —David Torn (solo artist, David Bowie, John Legend, k.d. lang, Tori Amos, Madonna)
"Filth is pretty f'in great!" — Joe Barresi, producer (Queens of the Stone Age, Soundgarden, Slipknot, Melvins, Bad Religion)
"Holy shit! What a pedal! It's such a thrill to be able to go straight to insane tonal meltdown and then taper it back to a sputtering, fried mosquito yelp. This pedal can go between brutal and beautiful all within the push of either of the two sliders. 10 outta 10. Fuck yeah!!!"
—Matt Wallace
, producer (Maroon 5, Faith No More, Chevelle, the Replacements, REM)
"Filth rules and there's no substitute." —Dean Barnardini, bassist (Chevelle)
"Do you know about Joe Gore? He builds amazing pedals. We used a few pedals of his, and the Filth Fuzz in particular. If you're looking for a killer fuzz pedal, check him out." —Pete Loeffler, guitarist (Chevelle)
"Filth is perfect for the low-bias, dying battery or amp sound, and that's a voice I often look for. With the slider on top all the way to left and right slider way down, it gets great, almost octave-fuzz overtones." —Brian Ray (Paul McCartney's guitarist and longtime Etta James music director)
"I love this pedal. It makes me feel so dirty." —Mark Goldenberg (Jackson Browne, Bonnie Raitt, Chris Isaak, Linda Ronstadt, Hugh Laurie, Waylon Jennings, solo artist)
"Joe's Filth box is especially intriguing me right now. I've been doing some film scoring, and to get the sounds I need, I've been using a bow – either a violin-style bow, or an electronic bow like the e-bow. Joe's pedals really work well for this, so I'm fucking with them a lot lately." —Whitney Petty (Thunderpussy)
"I've been looking for six months to find a sound I heard in my head, and I've been trying every pedal I can. Filth is it—within three minutes of missing around, I realized it had everything I've ben looking for. It can do every sound from the Stones' 'Satisfaction' to Tom Waits' 'Cold Water' to synth-sounding stuff. It scratches me right where I itch!" —Dan Vickrey (Counting Crows)
"Filth is exceptional AND sonically flexible. Joe works in a number of different musical situations and has developed an extraordinarily flexible and musical fuzz. Last year my friend David Torn went on a fuzz bender. i joined in on the pedals that he strongly recommended i check out. But nothing comes close to this in terms of timbral diversity, response, and joy." —Matte Henderson (John Medeski, Natalie Merchant, Screaming Headless Torsos, Mick Karn, solo artist)
"This is an absurdly versatile fuzz pedal despite its simple layout. You can easily dial in classic fuzz tones and get some newer tweaky-type sounds. The X and Y controls are very interactive, allowing you to obtain endless amounts of filthy fuzz. Tight or loose, stable or sputter, whippet-thin or morbidly obese—it's in there! This is a great fuzz for those looking for some Kevin Shields My Bloody Valentine-type tones and some good old Big Muff type tones. I LOVE IT!!!" –Fuzz Box Girl (bitchin' guitar effects blogger)