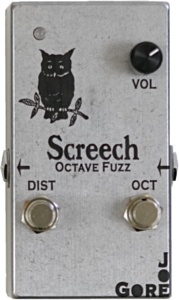 AVAILABLE NOW FROM VINTAGE KING!
OVERTONE OVERDOSE
The Joe Gore Screech is descended from vintage octave fuzzes like the Ampeg Scrambler and Dan Armstrong Green Ringer, but it's not a clone. It provides much clearer octave overtones, and you don't need an extra booster for great results.
Most octave fuzzes work best when you play near the 12th fret using the neck pickup. But Screech provides potent octaves regardless of neck position or pickup setting. It also does fine non-octave fuzz.
Unlike most things Joe Gore makes, Screech is not especially dynamic. It needs consistently heavy gain for its powerful octave effects. But as on many vintage octave fuzzes, you get freaky harmonics and other interesting noises when you lower your guitar's volume control.
Screech runs on standard 9-volt batteries or power supplies. It was created in San Francisco by Joe Gore and is built in Michigan by skilled craftspeople paid a fair wage. It comes with a lifetime warranty.
TO USE: Turn the knob, silly.
"New favorite thing alert: Joe Gore Screech. Hugely inspirational." —Richard Fortus (Guns N' Roses, Crystal Method, Pink, BT, Dead Daisies)
"I love the Screech pedal. It's the perfect octave fuzz boost.  I've used it on projects for Morrissey, Charly Bliss, Cherry Glazzer, the upcoming Liily album, and a new album for The Districts."
 —Joe Chiccarelli (producer, Morrissey, the Killers, U2, My Morning Jacket, Frank Zappa, Elton John, Cage the Elephant, Minus the Bear)
"A friend let me try out this pedal, and I was so blown away that I went home, got on reverb.com, and bought it that day. Here's the beauty of this particular pedal—and the reason I like it so much: On typical Octavia pedals there's a sweet spot above the 10th fret, and usually have to use the neck pickup. But with this pedal you don't have to worry about that. It works great with any pickup setting anywhere on the neck. You still get that octave effect." —R.J. Ronquillo (Santana, Stevie Wonder, Smoky Robinson, Chaka Khan Ricky Martin, 2Pac)
 "I just unpacked Screech, plugged it in, and within literally seconds I knew it was a winner. It's everything I love in a fuzz: a huge warm tone into a clean amp yet it doesn't crap out when it goes into a drive pedal; cleans up beautifully and quickly when you turn down the guitar volume into first a dynamic drive and then a crispy, fuzz face clean. The optional octave is great, and though technically you can't use it alone, when you turn down the guitar volume the pedal cleans up so much you are virtually using it alone. Cool!" — Guitar Moderne magazine (Great Gear Award winner)
"

I've been a big fuzz octave guy for 25 plus years. This is by far my favorite."
—
Matte Henderson
(John Medeski, Natalie Merchant, Screaming Headless Torsos, Mick Karn, solo artist)